"Outreach Ministry"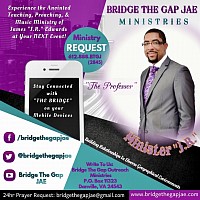 Outreach Ministry
Evangelism:

Going into various virgin areas, locally and abroad "To proclaim the acceptable year of The Lord"; through "the foolishness of preaching to save them that believe". (Isa. 61:2, 1Cor. 1:21)



Book Writing: 
 To help empower, build, strengthen, and bridge gaps holistically.
This book is being written as a source of daily food for thoughts for readers to ponder and examine the various idiosyncrasies in their life; even discuss them among peers or in a group study session. "We all have some cookies in our lives whether good or bad that we need to release, so what cookies are you holding on too"?
Contact Information
Office: 612-888-BTGJ(2845)
Or